This Sunday in the Modern Minis class that I've been teaching all year, we're finally getting to the hexagon honeycomb project that's on the book cover. This pattern uses six solids and six prints, so I'm using a length of a fruity-bright P&B Nuances fabric that I bought just for this project:
This fabric is printed with six strips of color running lengthwise, so it's absolutely perfect for this pattern. Instead of buying six separate one-yard cuts, I cut the four yards of my single fabric into six separate 5-1/2" strips. For the skinny background sashing strips, I'm using the rest of my orange squiggly Architextures fabric: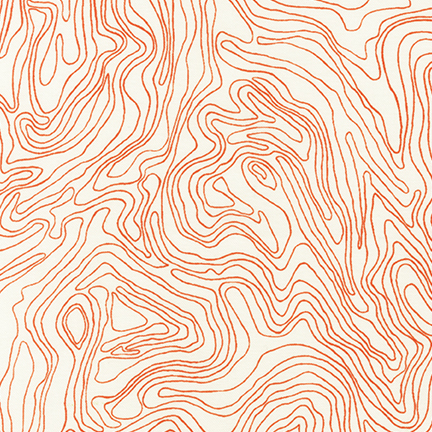 The pattern for the quilt calls for sixty one-inch strips, but I have found that Hartman's patterns tend to be a little on the wasteful side and, since I will have no use for a bunch of leftover one-inch strips, I have decided to cut just 32 strips to get started. I'm sure I'll need a few more, but not 28 more.
After I finished the
Week 5 mystery units
, I got a nice start on sewing the sashing strips onto the solids and cutting triangles:
The second-darkest segments are all cut (center), and the sashing strips are added to the other four colors. Time to cut triangles!
I worked through the entire set of the darkest shade, along with the coordinating print, and even assembled those half hexagons:
The violet half-hex units are pieced and ready for final assembly.
By the time Sunday rolls around, I should have most of this finished up and ready to assemble. I'm planning to leave just enough of the work unfinished so I can use it as class samples. Still loving all these 60-degree angles!!