After a few evenings of slicing and dicing and stitching, the pile of leftovers from the
Sochi quilt
is dwindling. Some of the pieces have been relocated for their protection into nicely tamed 1.5 and 2.5" strips, and I also have a nice little pile of 1" diamonds on my tiny portable design board. I feel like a dragon hoarding treasure when I look at all these bright little jewels in such pretty heaps!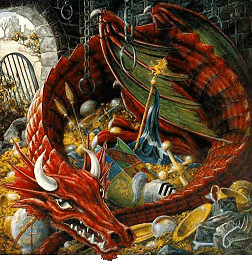 Here there be fabric!
I found that I couldn't make myself slice up the pre-cut pattern pieces that were all so pretty and perfect -- whew, sorry about that alliteration -- so I arranged the half-diamonds into a few 3-piece triangles, then sewed those into one larger triangle. (The y-seams with pieces this big aren't a problem, and I like the effect so much that I'm actually considering making a whole quilt with this technique.) I also used all the end-of-row angle cuts to make a bunch of 4" triangles, then after a bit of time playing with the pieces on the wall I decided to use the small triangles to border the larger one. It took a little effort to figure out exactly how wide to sew the white strip so the border segments would fit correctly (it finishes at 3/4", for anyone wondering). I'm still not sure whether this will be it, or whether I'll continue with this piece...
Sochi aftermath piecing
In addition to the precut triangles, I also did some freeform stitching with the oddly shaped scraps. I could have probably just incorporated them into the
freeform 60-degree scrap quilt
that still needs a little work, but there's plenty more fabric in bigger chunks for that task. I'm not terribly thrilled with this yet -- I might slash it into some strips and use it to frame some embroidery panels. It is pretty though - like a very cheerful piece of stained glass.
Sochi aftermath -- freeform version