I had this great...if ambitious...mental schedule for finishing my monthly challenge projects after our Halloween party. Now, however, in the face of power outages, I have run out of time. I did manage to complete a nice lap/crib-size top for the Color Palette challenge. This month's inspiration is a wonderful Kandinsky: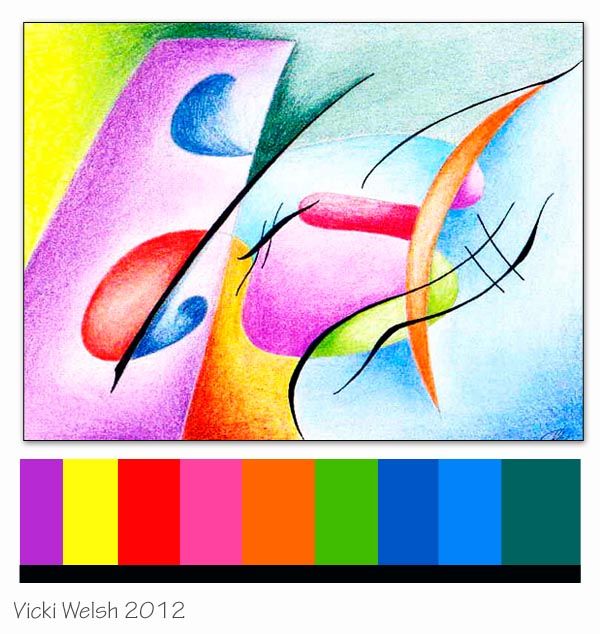 I have had some perfect Dan Bennett fabric maturing in the closet for about a year...now is its time to shine. I found some almost-solids in every color in the palette chosen by
Vicki Welsh
, and a scrap of coordinating polka dots.Here's my "solution":
I edited the post to put in a better-lit photo. Love this bright cheerful, colorful little quilt!
I think our hatches have been sufficiently battened, and we are well stocked for comestibles and potables (potent and otherwise). If you need heat or a hot shower over the next few days, please call. We have a nifty furnace/thermostat setup that runs on the pilot light rather than electricity, so as long as gas service isn't interrupted we should be fine. Plus, we bought a little generator after last year so we can keep our freezer safe and occasionally fire up the modem and recharge devices. Stay safe, fellow east coasters.
And that, my friends, is my first Kindle-created blog post! My darling husband recently gave me a Kindle Fire HD for our 12th (!) anniversary. I love this little device so much that I suspect he might be regretting it a little (not really...just kidding).
(Edited on a grown-up computer to replace the photo. And to add that my friend Laurel pointed out that the sashing fabric looks like the projection tracks for the hurricane...so I'll be naming this one "Tracking Sandy". Thanks, Laurel!)